Perfect for the nights when you open your pantry and realize it's pretty much empty, these easy dinner recipes come together with just 4 ingredients (not including basics like salt and pepper!).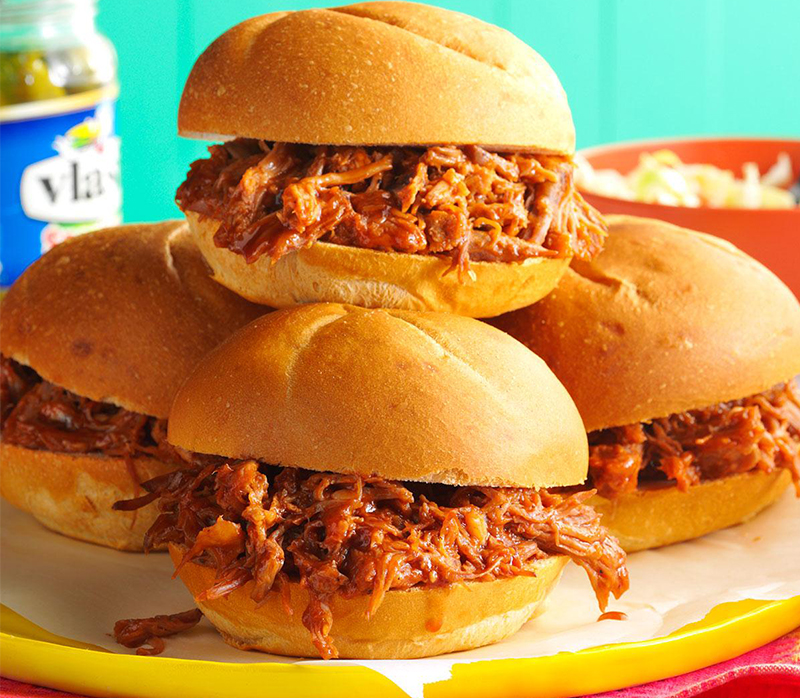 Root Beer Pulled Pork Sandwiches
My husband is a huge fan of pulled pork sandwiches, so my sister shared this incredibly easy recipe with me. At potlucks and family dinners, nobody can get enough of this root beer-braised version. —Carolyn Palm, Radcliff, Kentucky
Ingredients
1 boneless pork shoulder butt roast (3 to 4 pounds)
1 can (12 ounces) root beer or cola
1 bottle (18 ounces) barbecue sauce
12 kaiser rolls, split
Directions
Place roast in a 4- or 5-qt. slow cooker. Add root beer; cook, covered, on low until meat is tender, 8-10 hours.
Remove roast; cool slightly. Discard cooking juices. Shred pork with two forks; return to slow cooker. Stir in barbecue sauce. Cook, covered, until heated through, about 30 minutes. Serve on rolls.
Can you freeze Root Beer Pulled Pork Sandwiches?
Freeze cooled meat mixture in freezer containers. To use, partially thaw in refrigerator overnight. Heat through in a saucepan, stirring occasionally and adding a little water if necessary.
ROOT BEER PULLED PORK SANDWICH TIPS
What does root beer do to pulled pork?
Root beer is lightly acidic, and that acid breaks down the tough fibers in the meat, which tenderizes it. The sweetness of the soft drink complements the pork without adding a root beer flavor, and the sugar caramelizes the edges. Some of our other barbecue recipes contain this beverage as well, such as our Root Beer BBQ Ribs.
Can you overcook pork shoulder in a Crock-Pot?
Yes, it is possible to overcook pork shoulder in a Crock-Pot. We recommend setting a timer to avoid overcooking the meat, which may dry it out. While 8 to 10 hours seems like a long time to slow-cook meat, using the low setting will ensure tenderness without drying. Don't try to rush it by cooking on high.
What goes with pulled pork sandwiches?
Serve these pulled pork sandwiches with slaw on top or slaw on the side. Either way, a crisp coleslaw like this Summertime Slaw adds a bright crunch.
Research contributed by Catherine Ward, Taste of Home Prep Kitchen Manager Test Kitchen tip: Root Beer Pulled Pork makes a standout nacho topper. Pile some tortilla chips on a plate, and top with pulled pork, some shredded cheese and sliced jalapenos.
Nutrition Facts
1 sandwich: 453 calories, 14g fat (4g saturated fat), 67mg cholesterol, 907mg sodium, 54g carbohydrate (22g sugars, 2g fiber), 25g protein.
Next Page Button (>) for The Next Recipe »