For most families, a barbecue simply isn't complete without a bottle of ketchup on the picnic table. However, just because processed ketchup has become an American favourite doesn't mean it's healthy.
Today's ketchup has actually strayed far away from its humble homemade origins.
In fact, the Israeli health ministry has ruled that Heinz ketchup must now be sold in the country as "tomato seasoning" because it doesn't contain the 41% minimum of tomato concentrate to be labeled as such. Instead, Heinz ketchup only contains 21% tomato concentrate (1).
If tomatoes aren't the main ingredient in tomato ketchup, what is?
As you may know, ingredients on a nutritional label are placed according to the volume they take up in the final product.
This means that the first ingredient s the main ingredient in the recipe and the last on the list has the smallest quantity.
Here's the Heinz ketchup ingredients label: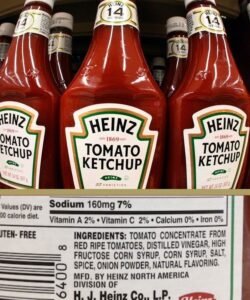 To Continue Reading, Please Use Next Page Button (>) Below »