If you aren't familiar how ingredients labels work, the label lists ingredients in order from most to least present in the product, meaning that "tomato concentrate from red ripe tomatoes" is what is in this ketchup most, followed secondly by distilled vinegar, high fructose corn syrup, etc. Salt, spice, onion powder and "natural flavoring" have a small percentage of the overall content.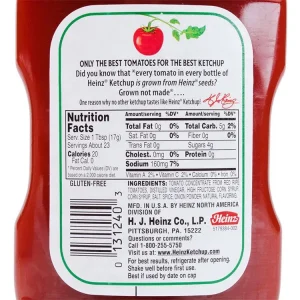 Let's take a look at the full ingredient list:
Tomato Concentrate;
Distilled Vinegar;
High Fructose Corn Syrup;
Corn Syrup;
Salt, Spice, Onion Powder, Natural Flavor.
The problem here is that both "high fructose corn syrup" and "corn syrup" are exactly the same thing – they are both "high fructose corn syrup". So why is Heinz adding a second corn syrup name on the label?
To Continue Reading, Please Use Next Page Button (>) Below »