Are you on a diet but you are dying to taste something sweet and delicious? Or perhaps you just want to change your nutrition little by little and you avoid sweets and cookies?  What if we tell you that there is no need for starvation and forcing yourself to that kind of cruel diet? We have delicious, healthy and easy to make dessert recipe for you!  
Like almost all the things in life, the need for sweets and the curtain type of sweets – chocolate, cookies etc is just a habit and habits are subject to change.
You can still consume sweet and delicious desserts that will bring you pleasure and in the same time will be healthy for your body and contribute to your beauty! And this desserts are very simple to make. You only will need 5-10 minutes to make and serve them.
One of that desserts is this healthy simple apple dessert.
Try it out and if you want share the experience!
Healthy Apple Dessert: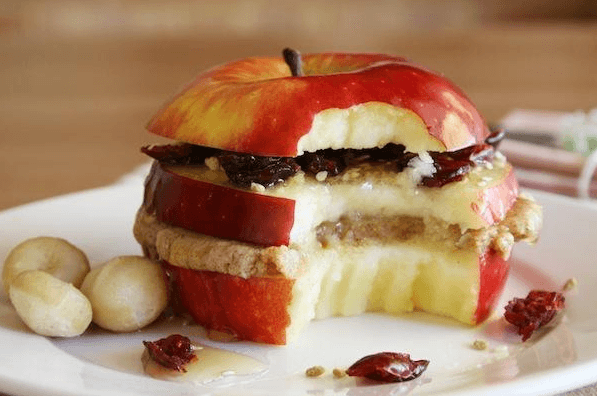 Ingredients for four- five people:
middle apple (or 4-5 depending for how many people are you making this dessert)
100 g of raisins
100 g of almonds
50 g of hazelnuts
50 g of walnuts
6-7 spoons of honey
1 spoon cinnamon
2 spoons cocoa (to taste, if you want)
2 spoons dry coconut
Preparation:
First, you should make the first stuffing. chop the almonds, hazelnuts and walnuts and put all these ingredients into one bowl. Then put the honey and try to make a homogeneous mixture. Put the one spoon of cinnamon and the cocoa or the dry coconut.
Second, make the second stuffing. Chop the raisins.
Third, chop the apple into slices like the picture above. Then put the two stuffing an fill the apple.
Put the apple/apples into fancy dish and its ready to serve and eat! Enjoy!